"André is an excellent teacher. Everyone who studies with him makes vast improvement. He has the ability to find the actor's adventurous spirit and helps fee their creative instincts."

(Martin Landau, Academy Award winner for Bela Lugosi in "Ed Wood.")
"André will help you to realize that acting is really doing things under imaginary circumstances. Listen to him, he knows the work."

(Mark Rydell, Academy Award nominee for Best Director for the movie "On Golden Pond.")
"There is no doubt André is a 'serious working artist'. He is a talented actor and teacher, possessing a truly artistic spirit."

(David Lee Strasberg, son of Lee Strasberg and C.E.O./Creative Director of the Lee Strasberg Theatre and Film Institute in West Hollywood.)
MORE TESTIMONIALS
"I am so lucky and grateful to have been working with André for the last couple of months. I have learned so much about Method Acting, about myself, using the 5 senses, how to completely RELAX and how to use your OWN experiences and traumas and turn it into ART. André worked with Lee Strassberg himself, he worked with great actors such as Al Pacino and Robert de Niro, worked as an actor for years, lived in Los Angeles, New York and in the Netherlands and he loves to use all his knowlegde and teach it to others! And he does this with so much respect and love. I always felt very very safe. Thank you, dear André. You truly changed my life for the better, I would recommend your classes to anyone who wants to become an actor or actress or who wants to get to know him/herself on a deeper level."
(Daniella de Campos, Amsterdam)
"To mark the end of the Strasberg method course at he Mulholland Academy, given by Andre Landzaat, I performed a monologue. I can honestly say that this is the first time in my life I didn't feel like I was acting. I was experiencing, which is what the Strasberg method is all about.
Thank you Andre for an amazing trimester at the Academy."
(Geoffrey Alkemade, The Hague)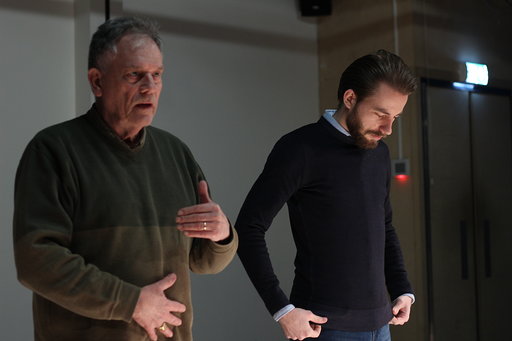 "Andre is a creative, charismatic, kind and creative wise man. Andre's acting teaching technique gives me more then just bringing the truth on stage. You will also break your protective wall and discover who you really are. You will discover back your feelings, emotions and memories.
His classes have always been enriching, entertaining and funny. He is a great mentor and manage to challenge everyone to his best. I can only strongly recommend him to everyone."
(Oliver Fecko, Slovakia)
"Andre has a lifetime of experience with the Strasberg method and worked with the crème de la crème of the industry which makes him one of the most sought-after acting teachers in Europe and beyond. His tutoring allowed me to go deeper with my emotions, perform multi-layered performances and truly elevate my potential as an actor. Thank you Andre for the past 10 weeks. I really feel like I improved and that Strasberg works for me. Hope to see you again along the way. Best wishes."
(Max Willems, Amsterdam)
"Working with Andre was a wonderful experience for me. It helped me grow as an actress and as a person. It is not just the method itself, it's the way he is teaching it. Even in the short period of time he helped me take control over my emotions and abilities, connect with myself and understand how to create a much deeper and unique performance. Towards the end of the course I had a play for the international festival. It was the first time I acted using the method and got the best actress award for the 'implementation of extraordinary female character'. Needless to say, everything Andre taught me played a significant role in that."
(Veronika Kalandarishvili, Georgia)